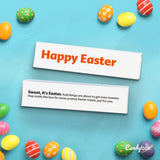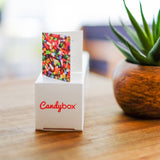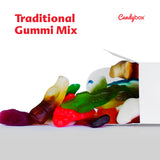 Happy Easter - Candy Giftbox
For the folk who want to mix it up a bit, send a Happy Easter Candybox full of their favourites - fudge, gummy candy, allsorts or, of course, Chocolate - Now that's sweet
Easter is so much more than just chocolate bunnies and Easter egg hunts. We think you can also include our Happy Easter Candybox because it's important to be totally prepared for Easter and by prepared, we mean having the appropriately balanced treat ratio for your long weekend!
Easter is more fun when you mix things up a bit - chocolate,  fudge, gummy candy or allsorts. Yum.
Your lucky recipient will receive:
a funky box full of candy (See the Candy Page for details!)  

Handwritten card (you can add a message above)     

FREE Delivery nationwide. Sweet as!
Message on box: Sweet, it's Easter. And things are about to get even sweeter. Hop inside this box for some yummy Easter treats, just for you.
*Just in case you're wondering, our boxes are 19.5cm high x 4.7cm wide. :)