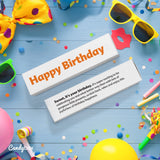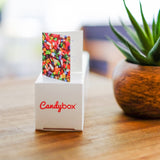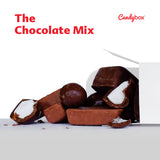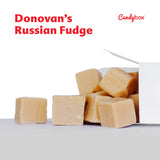 Happy Birthday - Candy Giftbox
Surprise your loved ones with our birthday gift boxes in NZ. Our curated selection of gifts is sure to make their special day even more memorable. Shop now and make their birthday extra special.
Ah, birthdays. Everyone has one, but as you get older they become less about piles of presents and more about taking a sideways glance at how fast those double digits are adding up. 
Not anymore. It's time to help your next birthday take a step back in time and be spoilt all over again. Inside each glorious Happy Birthday Candybox, your lucky friend will find lots of sweet little gifts, just for them.
It's the best thing since sliced fairy bread.
Your lucky recipient will receive:
a box full of candy in a super awesome birthday box (See the Candy Page for details!

)

Handwritten card (add a happy birthday message above)     

FREE Delivery nationwide. Sweet as!
Message on box: Sweet, it's your birthday. It's super exciting to be celebrating you and what better way than with lots of gorgeous little presents, so kick back, relax and enjoy this joyful box of birthday happiness.
*Just in case you're wondering, our boxes are 19.5cm high x 4.7cm wide. :)
Birthday Gift Box
No matter if you dread it, or cannot wait to get the party started, our birthday gift box makes it simple to say congrats. Birthday gifting always seems like an impossible task, having to account for personal preferences and dislikes – but it does not necessarily have to be.